*Yeah, new colors--bold, bright, basic--same old me. I felt like making a change to colors of action.*
I dreamed last night that I was talking with an older person at my meeting (not a real person, he was made up in the dream) and telling him that I had a desire to create a safe community space in which teens could hang out. In the dream, I had all the plans and details but no funding. The man left and then came and found me later to tell me that he had been living in Watertown and running a skating rink for years and was preparing to retire. He said that he had planned on selling the business but wanted to give it to me to help me realize my dream because he believed in it.
I don't want to run a skating rink but I do have a goal and I think this dream was telling me that I have to "put it out" into the world for it to be realized.
I want to build an intentional community in the city on reclaimed land that is as low-impact as is possible to create and to name it SPICEland after the Quaker testimonies: Simplicity, peace, integrity, community and equality. There are many ways to create a community like this, many models, many financial structures. I know how I would want to do it, but I would work with others to find what would work best for this particular community.
Here's what I dream:
I want it to be on a busy bus line so people wouldn't have to own cars (or the community could "share" a few vehicles via a simple cooperative or rental arrangement). I want Spiceland to be socio-
economically diverse with residents paying a quarter of their income for housing, whatever their income is. Spiceland will be age diverse with playgrounds for children, appropriate interactive space for teens, several large gathering spaces for everyone and housing appropriate for elders with health issues. (I envision
assisted living buildings for elders and young adults to share dorm-like apartments that have communal kitchen facilities. Perhaps the young adults would live rent-free in exchange for their assistance to the elders with cooking, cleaning and other needs). It will be mixed use with shops fronting the main traffic street and apartments above (and a coffees shop, natch). I'd like a grocery store to be one of the shops which would serve the community as well as the larger neighborhood (as this
will be an urban neighborhood, it probably does not currently have a grocery store). The living quarters for individuals will be normal condo or apartment-type units but will be smaller and in closer proximity than people are used to, with buildings sharing walls to conserve energy whenever possible. But
Spiceland will have one or more large buildings for community space which would have a large kitchen, game room, laundry facilities (with lots of clothes lines outdoors), common mail area, library, office space for those who work from home, and other shared-use spaces (a music room/recording studio would be nice). The community would have lots of shared outdoors space like a large garden, playgrounds and paths for walking.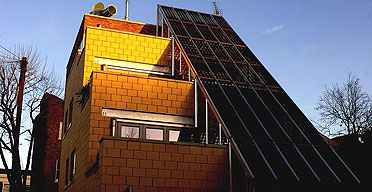 Because we will be building this from the ground up, we can make it
as energy efficient as possible. Geo-thermal heating/cooling. Solar and passive solar. Green roofs. Maybe wind-turbines (although that may not be practical in this area on a limited
amount of land). Plan into the interior design low energy lighting. Water reclamation. Point-of-use water heating. We'd use sustainable and recycled resources for interior and exterior design as much as possible.
And here's the biggie: Construct the buildings out of used shipping containers! Shipping containers are used only a few times before they're discarded. In large port areas there are, literally, hundreds of thousands which are no longer being
used. These things are built to withstand oceanic crossings in any
weather so are durable. They're also incredibly versatile. Imagine 40' long steel Legos and what you could build with them and you've got an idea of what might be done with these boxes.
But, of course, money is the thing. What I need is a patron. By putting this out into the blog-o-sphere, I'm hoping Al Gore happens to be trolling around one day soon and comes across this. He lives just a few miles from the land I've got my eye on and certainly believes in sustainable living. So, Al: Please, think about helping to facilitate an Earth-friendly community in the heart of Nashville!
When I've talked with people about this, most of the time the reaction is that it sounds great but "not in the city!". Most people dream of community like this in the country. My argument against building something like this in the country: First you're destroying good land; second, most people will work in the city and will have to commute; third, most activities and services folks want are in the city and they will drive back and forth for those things; and last, when urban land is reclaimed, you take something used and discarded and make it positive and beneficial (think of a vacant city lot which is full of trash and weeds and imagine instead a lovely neighborhood).